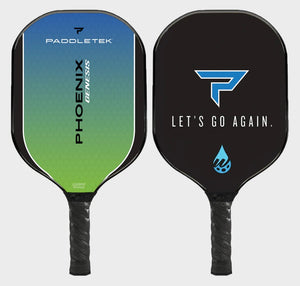 Paddletek Leigh Waters Phoenix Genesis Pickleball Paddle Dave Weinbach Blue Green
New
CRAZY4PICKLEBALL
presents: 
(1) ULTRA NEW
PADDLETEK

Leigh Waters Edition
PHOENIX Genesis

PICKLEBALL PADDLE
BY PADDLETEK
HITS ON HITS ON HITS.
A longtime favorite on the court, the Phoenix Genesis delivers everything you need in a high-performance paddle at all levels of play. Its lightweight design increases speed and maneuverability for quick reactions at the net, while our original PolyCore interior offers superior control and power. A high-grade epoxy surface provides a durable finish, keeping your paddle strong game after game.
Product Specs and Details
FORGIVENESS RATING
7.5 / 10
SURFACE
Textured Fiberglass Epoxy Hybrid
CORE MATERIAL
Polymer Composite Honeycomb
01
PolyCore provides responsive returns and reduces vibrations
02
Large playing surface is textured for added control
EDGE GUARD
All Paddle are equipped with 1/8" -edged shock guard.
PERFORMANCE GRIP
All standard grip paddles are equipped with our Ultra Cushion High Tack Performance Grip. All thin grip paddles are equipped with our High Tack Performance Grip.
USAPA Listed and Approved
Listing is for one paddle. 
  100% positive feedback here, so bid with confidence.
Thanks for Looking!!
Have a Great Day!!!!