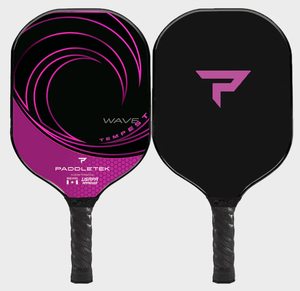 Paddletek The Original Tempest Wave Pickleball Paddle Graphite Weinbach Raspberry
New
CRAZY4PICKLEBALL
presents: 
(1) Reboot
PADDLETEK

THE ORIGINAL
TEMPEST Wave

PICKLEBALL PADDLE
BY PADDLETEK
THE OG CONTROL FREAK.
The paddle you know and love is back. A true OG's paddle, the Original Tempest Wave offers you incredible control for strategic short games. The textured graphite surface makes it easy to place the ball exactly where you want it, and the graphite in the Tempest PolyCore dampens vibrations and reduces weight while still providing enough power for a put-away shot.
Product Specs and Details
Control and Touch
THE ORIGINAL TEMPEST WAVE
FORGIVENESS RATING
8.5/10
SURFACE
Textured Graphite
CORE MATERIAL
High Grade Polymer Composite Honeycomb
EDGE GUARD
All Paddle are equipped with 1/8" -edged shock guard.
PERFORMANCE GRIP
All standard grip paddles are equipped with our Ultra Cushion High Tack Performance Grip. All thin grip paddles are equipped with our High Tack Performance Grip.
USAPA Listed and Approved
Listing is for one paddle. 
  100% positive feedback here, so bid with confidence.
Thanks for Looking!!
Have a Great Day!!!!